Bigcommerce is an eCommerce platform where you can host your online store and start selling to online buyers. It is one of the leading ecommerce software platforms that enable online business owners to set up their online stores and boost their store online.
Big-commerce started in 2009 but is now recognized as one of the fast-growing ecommerce platforms with over 90,000 online stores in 65 countries using this ecommerce platform. Its customers range from beginners to quite popular companies like Toyota and Martha Stewart.
Bigcommerce could be growing so fast because of its easy-to-use interface and their varieties of features it has that makes it easy for users to set up and use their online stores easily.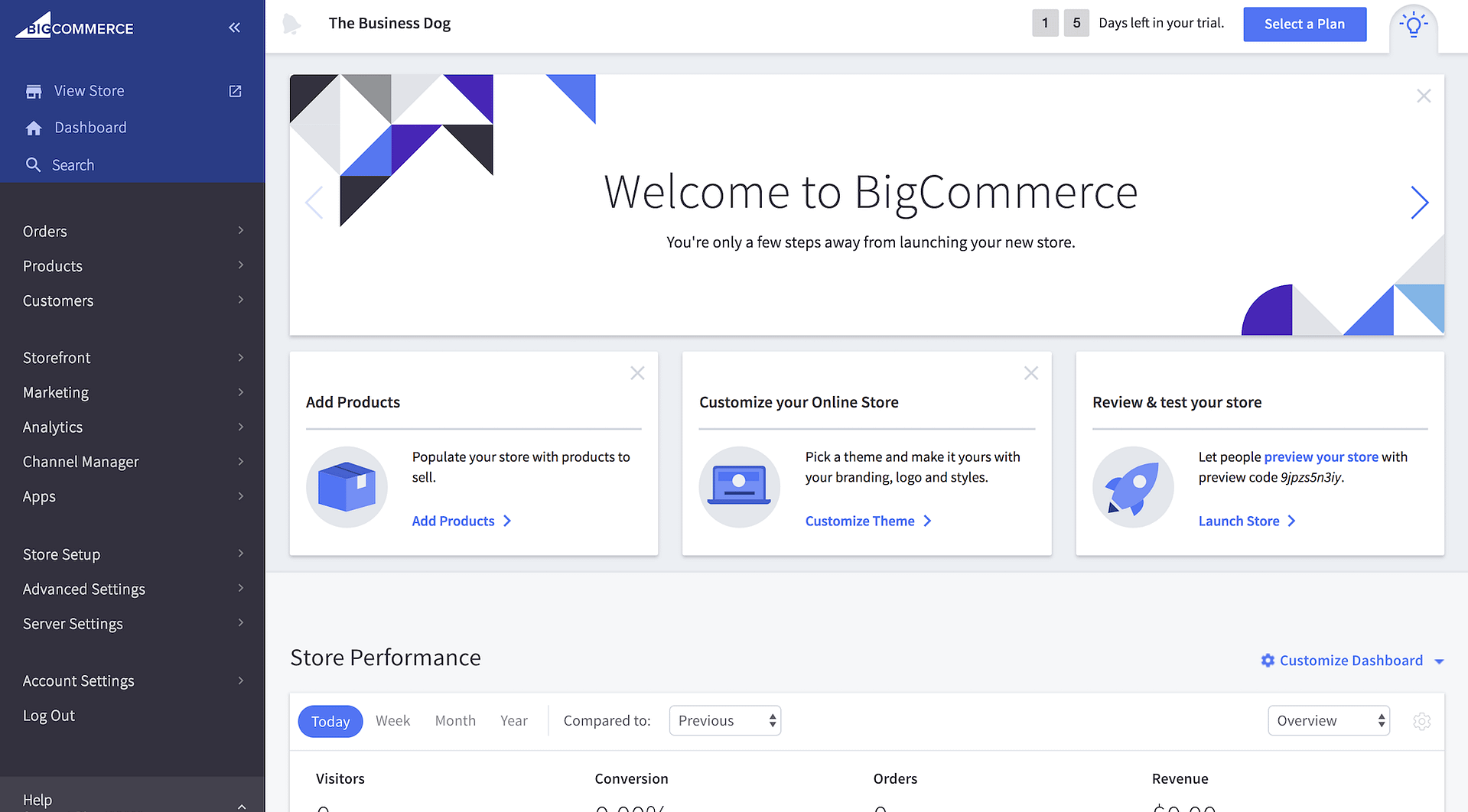 Some Important Features of Bigcommerce Platform
Bigcommerce has varieties of features that makes it easy for online store owners to set up their stores and handle other processes of selling through the platform. These features include:
Pre-built site templates which can be customized to the site owner's choice.
Tools to help you manage shipping and payment.
A Built-in SEO
Marketing and conversion tools
A single dashboard that helps you manage product listing on other sites like eBay, Amazon, Facebook, and others.
POS (Point of Sale) solutions.
B2B marketing solutions.
Bigcommerce Payment Processing
Bigcommerce has lots of payment gateways, it has up to 38 payment gateways, and your online customers can select any one of their choices. Your customers have varieties of payment options to choose from when checking out after purchasing items from your store. Trusted payment platforms like PayPal, Stripe, Authorize.net Google checkout, and 2checkout.
You can also add POS (point of sale) options to your store to make receiving payments rather easy and to save you time.
Bigcommerce also offers a credit card payment option; it has an encryption system that makes it easy to secure credit card details on the platform.
Bigcommerce Template and Design
Bigcommerce offers quite suitable design features for anyone at all, so if you lack the skills to write codes for your online store or if you already know a lot about web designs and have a particular way you want your site to look, then Bigcommerce is what you need.
You don't need to be tech-savvy to create an awesome storefront designs for your customers to love and perform other options with ease. Just use the drag-and-drop tool templates to enable you to create an impressive storefront for your online store.
You can get a view of what your storefront will look like on PC or Mobile when it the designs have been set up. This makes you visualize your storefront, find out its weaknesses, and make the necessary changes.
Bigcommerce also offers experienced web designers opportunities to build their online store to their customized taste. It offers a full HTML editor and full access to raw CSS files for tech editors to design their storefronts the way they want.
Online Store Marketing Tools
Big-commerce offers online store owners tools for marketing their products online; there are tools for SEO, Engagement, and Sales too. This platform has a built-in blogging option that makes it easy for you to create blog posts right on the platform. You can create blogs and information pages that are SEO friendly through your admin panel.
The admin panel gives you access to things like header tags, URL, Metadata, titles that will make it easy for you to customize your blog and information pages. Bigcommerce provides a lot of help to online store owners, which helps them grow their platform online and incorporate SEO effectively into their online marketing strategy.
Bigcommerce also has a built-in coupon and discount features that motivate users to patronize your platform. Use this built-in discount features to motivate your customers to buy your products and services to get gift certificates. This is one effective way of marketing your product and services online. Bigcommerce Product Review feature also enables customers to leave their feedback after they have had an awesome shopping experience on your store.
Email-marketing, which is one of the powerful ways of online marketing, is also incorporated in your Bigcommerce online store. This gives online store owners the opportunity to use powerful email marketing platforms like MailChimp, Constant Contact, Hubspot, and others. You can segment your email messages and list them out based on purchase history, order total, customer location, and more. This Email marketing feature enables online store owners to send targeted messages, newsletter, and also cart abandonment notifications to customers.
Big-commerce makes it easy for you to market your brand on social media too. You can simply add the BUY NOW buttons to your social media platforms like Pinterest, Facebook, Twitter, and others, to enable you to sell your online products through social media platforms.
Big commerce also offers live chat support features to enable customers to easily communicate with online merchants. This means your customers can quickly contact you if they are having any challenges using your online store. This feature is not found on many eCommerce platforms, which makes Bigcommerce stand out amongst others.
Managing Inventory
Managing inventory on Bigcommerce is quite easy. It has a product upload options that enable you to present customers with varieties of products on your online store.
You can upload as many products as possible on your store, the number of products added is unlimited. This means you can have a very large catalog of your products right on your store.
Big Commerce Help and Support
Bigcommerce provides online support and helps online merchants using their platform to host their online store. When it comes to providing help and support for its users, Bigcommerce is considered to be above other ecommerce platforms. It offers live chat support, email, and phone support that enables customers to reach them with ease.
Users can also communicate with them through social media pages, YouTube, and other online resource Centre. You can communicate with Bigcommerce staff and share experiences with other users on the Bigcommerce Community chat forum. You can check out its guides, documentation, Bigcommerce University, and online community to communicate with Bigcommerce.
Conclusion
Bigcommerce offers online merchants' features that enable them to set up their online stores and market their products and services effectively online. It has SEO features that users can take advantage of and boost their online store's presence and reach online. Check the platform out and start selling your products & services and boosting your online store with ease.