Facebook has over two billion active users on the platform, and a lot of information is disseminated through the platform, well facebook realizes how powerful it is as a social media platform and the role it can play in crisis management and in helping people out in crisis situations.
Facebook crisis response enables the Facebook community find out information related to crisis situation people get to see more crisis-related posts such as links to articles, photos, and videos, this can help them stay up to date about the crisis situation.
Facebook crisis response also enables users to find out if their family members are in good conditions during crisis situations; users can mark themselves safe to notify their family members that they are okay. And people can also help out others in a crisis situation with the use of Facebook crisis response tool.
Facebook has continued to advance its crisis response tools since it was launched in 2011 and this enables the facebook community to be up to date about what is happening in crisis-affected areas, let their family members know they are okay and help communities in crisis situations recover.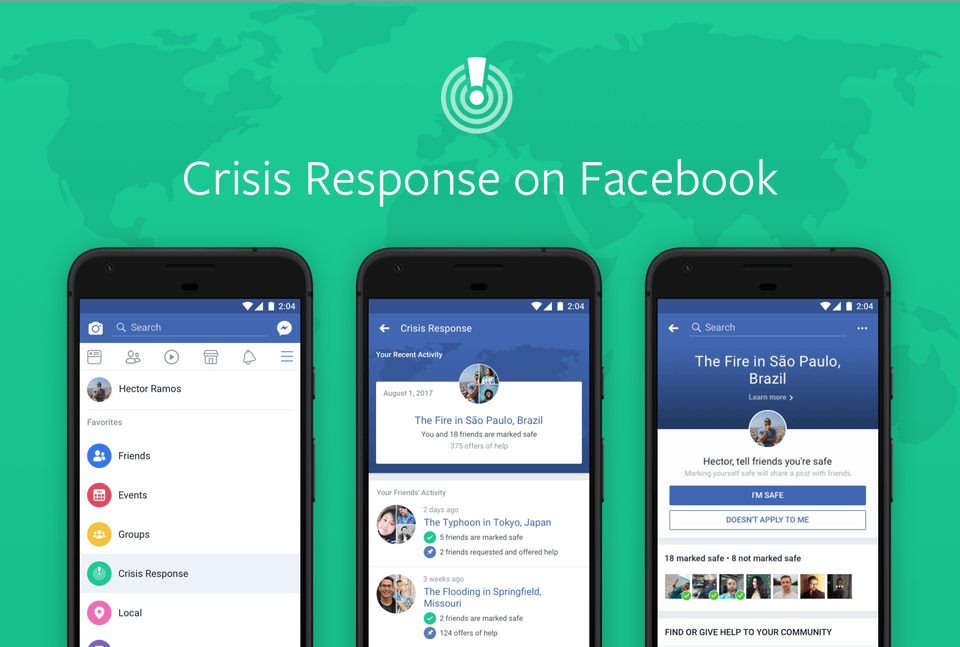 Crisis Response Tools
Crisis response tools include the following:
This tool can be used by Facebook users to notify their family members that they are safe during crisis situations; the feature is right at the top of the crisis page. You can simply mark yourself safe during any crisis; it's an easy way to let family members and friends know you are fine.
Through Facebook, others can get to know about crisis-affected areas and assist them with the necessary help they need. People can also use this tool to ask for help for crisis-affected areas.
LINKS TO ARTICLES, PHOTOS, AND VIDEOS
Links to articles, videos, and photos containing crisis-related information are posted on facebook to help facebook users know more about crisis and areas that have been affected by the disaster.
Concerned individuals can create fundraisers and donate the necessary support needed by those affected by the crisis; this can also alert nonprofit organizations to assist with relief materials for affected people.
Facebook puts in effort into helping the community during a crisis situation and providing them with the necessary info they need to know about crisis and crisis-affected areas. People from across the world use Facebook to communicate and connect during crisis situations, and Facebook crisis response creates an effective way for users to do so.
How to Ask If Someone Is Safe During A Crisis Situation
You can find out how your friends and family members are doing during crisis by using the crisis response tool. To ask about your friend's welfare, follow these steps:
Go to Crisis Response and Select a crisis page.
You can see a list of your friends who have been marked safe and those who have not been marked safe on the Crisis Page you selected.
To search for friends on the list simply type in their names and find out if they are safe.
You have to bear in mind that you can only check the safety of people who are your Facebook friends.
To find if your friends are safe, click ASK IF SAFE next to the name of your friend.
A notification will be sent to your friend for them to mark themselves safe.
How Do You Use Crisis Response to Find Help
You can use facebook crisis response to find for help yourself and community out, you can ask for things like food supplies, transportations, and other relief materials. To ask for help simply follow these steps:
Go to Facebook Crisis Page and click FIND HELP.
Browse through the categories to select the kind of help the matches the one you need.
Once you find the help you need, you can comment on the post or message the person who asked for people to connect with him for help.
If the kind of help you are in search of is not available, click CREATE POST
You can check out maps or existing posts on the crisis page to find out the kind of people are offering.
Guidelines for Crisis Response Posts
Crisis response posts must follow the following guidelines:
They must adhere to Facebook community standards.
The posts must be relevant to the crisis.
These posts must not contain commercial ads.
When you eventually find help, you need to let people know.
How to Create a Fundraiser in Crisis Response
You can support people in crisis-affected areas by creating a fundraiser for a nonprofit organization or for personal causes right on a Facebook crisis page. To create a fundraiser, follow these steps:
Go to the Crisis Page, then navigate to the Fundraiser section at the side of the screen.
Then click RAISE MONEY and GET STARTED.
Choose either NONPROFIT or FRIEND ON FACEBOOK
Then search for the friend or nonprofit organization you are creating a fundraiser for.
Enter necessary info required such as who you are creating a fundraiser for and the reason for creating a fundraiser.
To use this feature, you must be up to 18, and it is only available in the United States.
How Do You Find Safety Check
The safety check is an easy way to let your friends and family members know you are safe in a crisis situation. To use this feature:
Go to Crisis Response, then select the Crisis page for the particular kind of crisis you are looking for.
Then locate the Safety Check at the top of the page and mark yourself Safe.
Conclusion
Facebook crisis response offers users the opportunity to connect and community with others during crisis situations. The safety check, Fundraiser, Links to articles, photos and videos, Community help all enable users to learn more about crises and take part in helping people recover from crises.