Facebook Dark Mode Settings – Dark mode feature is fast becoming a norm for every mobile app, website, or web app, and Facebook is not left behind on this.
The bright light from your screen often strains your eyes as you continue to stare and stare at the screens of devices for long. Dark mode helps to reduce this strain and can be very useful in low-lit environments or at night.
The Dark mode simply became popular because it is an excellent remedy for reducing eye strain that comes from staring too long at your screen. So, you can enjoy your favorite apps at night with the dim light and toned down color.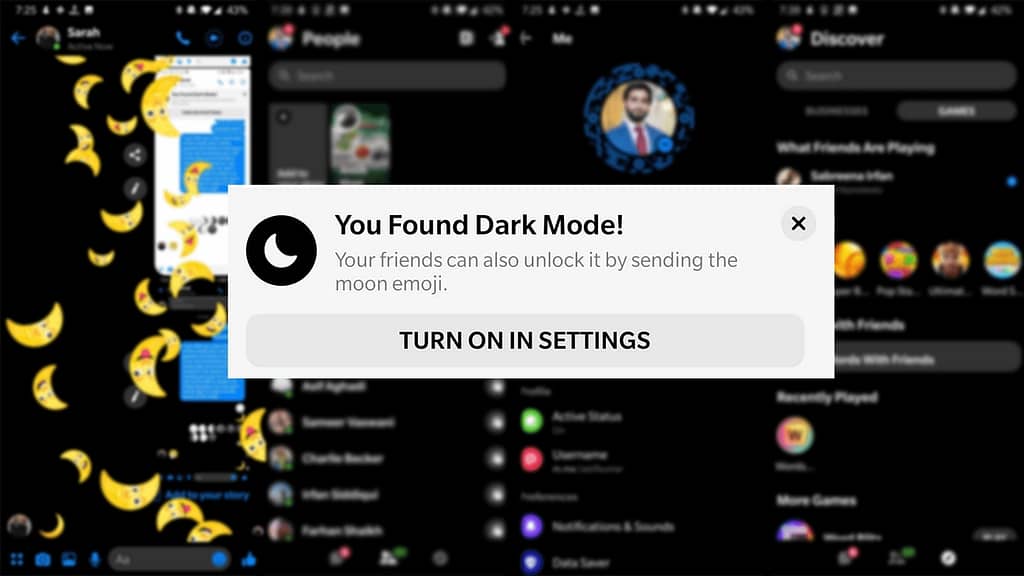 Facebook Dark Mode Settings
Facebook rolled out the dark mode settings on Facebook messenger; however, it is not yet available on the Facebook app.
However, you can still apply dark mode to your Facebook app on your desktop through chrome extensions or third party-app if you know the trick.
Facebook is yet to roll out the dark mode feature on the Facebook app, but you can enjoy this feature on Facebook messenger.
How to Turn on Messenger Dark Mode
You can enjoy the dark mode feature on your Facebook messenger app by doing the following:
Open the Messenger app on your mobile device
Type the crescent moon emoji on your chat window
Send a crescent moon emoji to a friend
After following these steps, you will find an animation of raining moons saying, "You have found the dark mode settings."
Then you will have the option to enable dark mode features in your settings. Just tap your profile picture to access Settings, then you can toggle the dark mode option to turn it on. Furthermore, and you can also disable it when you want through your settings. Just tap Dark Mode on your settings to turn it off.
Chrome Dark Mode for Desktop
Facebook is currently testing the dark mode feature with a group of beta testers, so if you are part of this group, you will get to experience Facebook dark features before other users.
However, if you are not part of this group, you will have to wait until the feature is rolled out worldwide. You can still use google chrome to enjoy dark mode on your desktop while you wait for the main feature to be rolled out.
Chrome "forced dark mode" feature is not the same as the main Facebook dark mode feature, but you can still enjoy it.
To enable dark mode on your Facebook on Desktop Follow these steps:
First, you need to make sure you have the latest version of chrome. You can check for chrome's version by clicking "Help" on the Main Menu and then click "About Google Chrome." Then the browser will find and install any available updates.
Next, visit Chrome: //flags /#enable-force- dark in the address bar. Then change the first drop-down menu you see from Default to Enabled.
Then finally, you will be prompted to re-launch the browser; when it re-opens, every site you visit will be in dark mode but not so perfectly. But you can still enjoy your Facebook page in a dark mode setting.