Facebook Game Cards – Online gaming is a video game that is either played partially or primarily through the internet or any other computer network. Gaming online is ubiquitous among modern devices and gaming platform, including Personal Computer (PC) console and mobile devices. Some social application and media have now adopted gaming on their various social platform such as Facebook and browser games to enhance user's activities.
Social media game such as Facebook Game is a type of online game that is played though social network for the fun and enjoyment of the users. Some of these online games are not accessed for free hence, they have to be paid for by using "Game Card".
These days, Facebook games are the guilty pleasure of many individuals who need a little bit of downtime in their lives. Many people even find themselves spending real money to help them get ahead in their favorite games, choosing to buy Facebook credits online in order to increase their success in those games.
The Facebook Game Cards are the easy and quick ways which various users can purchase items in favorite games and app on Facebook. Facebook Game Cards are available in over 20 countries. They enable players to redeem a Game Card for an equivalent Facebook stored balance which can be used to purchase in-game currency and goods.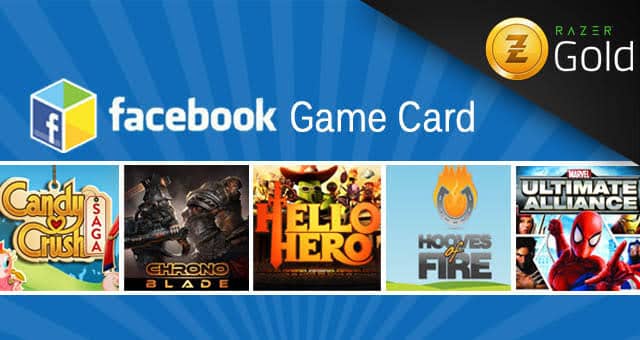 Things to Do with Facebook Game Cards
Facebook Game Cards are a popular way of purchasing items within games. This makes it easier for players to buy games and enable these players to redeem the full value of any Facebook Game Cards straight into a particular game's in-app currency. Social online game developers us Game Cards i.e. Facebook Game Cards as a new payment option, taking advantage of incremental gifting opportunities and cash-based purchases.
This is an alternative payment method if you do not have a credit card. If you have a Facebook Game Card and would like to redeem it for your app and in-app purchases you have to follow the next session on steps of using Facebook Game Card.
How to Use/Redeem Facebook Game Cards
Online game is now made more interesting because players get to use money to partake in some fun game time. This has brought into light how various players use and redeem Facebook Game Cards. Bellow are the following steps players all over the world use or redeem Facebook Game Cards;
Go to https://www.facebook.com/gamecards?a=redeem on your browser
Click "Redeem Code"
Scratch the Game Card.
Enter the PIN Code displayed.
Click "Redeem" at the bottom of the  window
Select preferred currency
Click "Continue"
Facebook game cards have a wide variety of uses. Every game on Facebook has plenty of features that can only be purchased with real-world money. In some games, those are special items that make the game easier or more fun to play.
In others, those features include things like extra lives or energy, extra levels in the game, or even the key items needed in order to advance in the game. There are also Facebook games that encourage creativity, use critical thinking skills, and improve cognitive skills. Hence, the important of Facebook Game Card comes into play because there's a game for everyone.