Office 365 Plans – Microsoft offers varieties of plans suitable for different organizations, small, medium, and enterprise businesses.
It may be confusing for you to know which of these plans are suitable for your organization. So, you can simply check out which plans encompass the services your organization needs and opt for it.
The plans vary depending on the price; in fact, price is a very important factor in deciding which plan to opt for.
Microsoft offers Office 365 Enterprise plan and Business plan to organizations with employees fewer than 300 people.
Organizations may find it hard to decide which of these plans to go for. Well, we will give you a list of office 365 business plans and enterprise plans to help you decide which plan best suits you.
Furthermore, the Office 365 Business plans include the following plans: Office 365 Business essential, Office 365 Business, and Microsoft 365 Business Premium.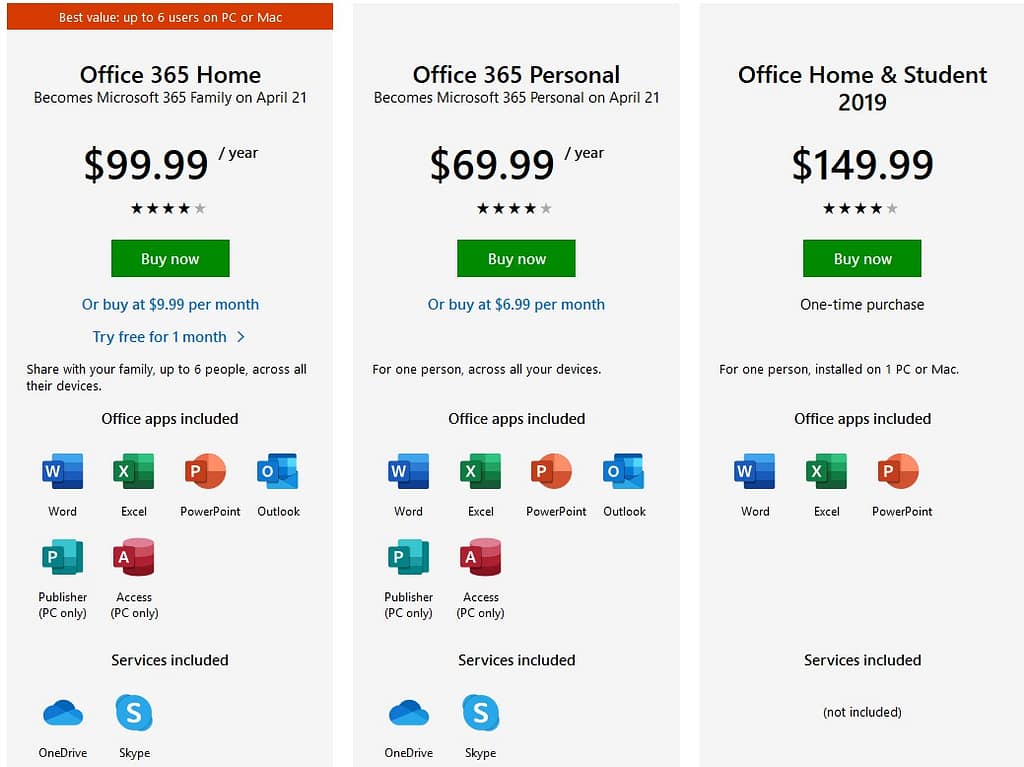 Office 365 Plans and Pricing
Office 365 Business Essential: This plan is suitable for small companies, and it offers a Custom email domain, 50 GB mailbox storage, and web versions of applications like Word, Powerpoint, Outlook, and Excel. Businesses that do not heavily depend on office 365 applications can opt for this plan. The price is $5 per user on a one-year agreement and $6 per user for a month agreement. You are so entitled to services like Skype for business, Microsoft team chat, Microsoft planner to help in management and organization of office work, 24/7 phone, and web support, Sharepoint, and other services.
Office 365 Business: The price range for this plan is $8.25 per user every month for a one-year agreement and $10 per user monthly for a month's agreement. This plan is suitable for businesses with less than 300 employees that do not depend too much on office 365 services. This plan offers desktop and web versions of office 2016 applications like Outlook, Word, Powerpoint, Excel, and OneNote. It also offers OneDrive & 1TB of OneDrive storage, 24/7 phone, and web support, and Fast track deployment support.
Office 365 Business Premium: This is the most expensive office 365 business plans, and it is suitable for Businesses with fewer than 300 users that require the latest versions of office 365 desktop applications, cloud services and email hosting. Users are required to pay $12.50 per user on a one-year agreement and 15 per user on a monthly agreement.
Office Enterprise plans
The Office Enterprise plans comprise the following: Microsoft 365 Enterprise E1, E5, E3 Licenses, and Office 365 Enterprise Pro Plus. Enterprise E1 is the cheapest plan and requires users to pay $8 per month (yearly agreement). Enterprise E3 requires users to pay $20 monthly per user yearly.
Furthermore, the E5 is the highest tier Microsoft offers, and the price range is $35 per user on an annual commitment. The services offered vary depending on the plan and the price.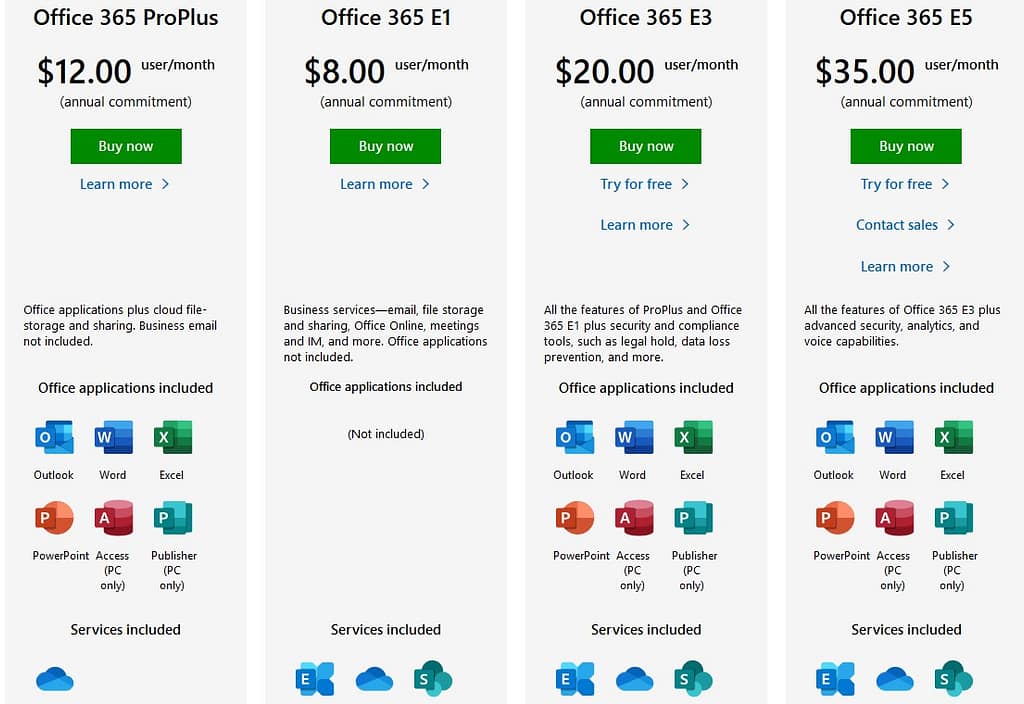 Conclusion
Office 365 Business subscription comes as a monthly subscription to Microsoft services while Enterprise plans come as yearly commitment.
You simply need to know what services your organization requires to run smoothly; then you would definitely know which plan is most suitable for your organization.