Uber Payment Methods – Adding a payment method is a very crucial aspect of Uber Registration. As a customer, you will be required to add and select a preferred payment method.
Payment methods such as credit cards, cash, or PayPal account can be selected depending on your country or city. Payment for your trips will be charged from your payment method chosen whenever your trip ends.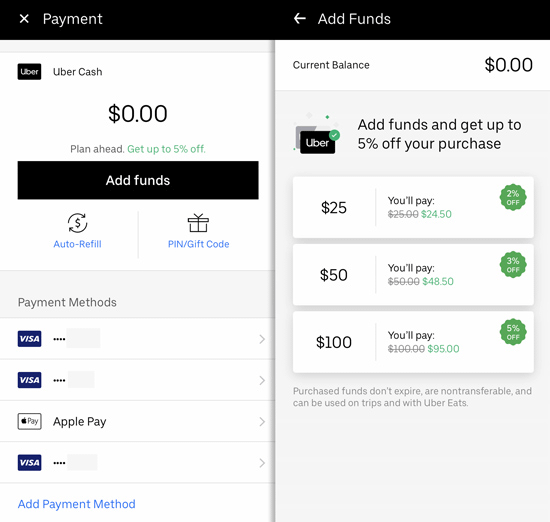 How to Change your Uber Payment Method
Changing payment methods on Uber is a rather simple process, and you can decide to add your card details either manually or by scanning it. It's important to keep your Rideshare app Payment details up-to-date to avoid inconvenience, so if you want to change your payment method, just follow these steps:
Open the Uber app on your iPhone or Android, Then Tap the three stacked lines (menu icon) at the top left corner to access the menu page.
Then Click On "Payment" Or "Wallet"  
Tap On "Add Payment Method " On Android And "Add Payment Method Or Redeem Gift Card" On iPhone.  
Then select the desired payment method and enter your information as instructed.  
If you are adding a credit or debit card, you can scan the card to add your card details. You can scan it by tapping the camera icon, which is located to the right of the column that reads "Card number."
Just give Uber Access to your camera and follow the On-Screen instructions to enable you to capture your card details.  
Then Tap "Next" On Android and "Save" On an iPhone.
Alternative Ways to Change Uber Payment Options
You can also change your payment methods by following these steps:
Open the Uber app
Then Tap the "Set up Location" button, then you will be prompted to select a payment method and destination before you can book the ride.
Just Tap the Displayed Payment Method, and list of payment methods you've added would appear.
Then select the new payment method you want to use. The newly selected payment method would become the default payment method until you change it again.
You can also use the "Add Card" button at the top-right corner of the screen to change your payment methods.
Change Payment Methods via Uber Web Platform 
To do this just:
Go to the official Uber login page through your web browser.
Then sign in to your Uber Account using your email and password. Then you will be taken to your Account Profile page.
Click the "Payment" Option On the left panel of the profile page. This would open a page with your payment details.
Just click "Edit" next to the card you want to change.
Then you can edit your card information.
And finally, click "Save" once you are done adding the necessary card information.
Conclusion
If you have multiple payment methods linked to your Uber account, you can choose which payment method you want to use to pay for your rides. You can change your payment method anytime you want, before a ride, during a ride, or at the end of the right. Whatever payment method you choose will be charged.