Best Podcast Apps – Using the best podcast apps means you get to enjoy the best podcast experience. With these apps, the management of your subscription and finding your favorite podcast becomes rather easy.
The best podcast apps have a variety of excellent features that gives you the best podcast experience.
Best Podcast Apps 2020
So, let's check out the best podcast apps:
This has been one of the most loved podcast apps for a very long time. And it can be accessed on both iOS and Android devices. Initially, pocket cast required a paid membership for users to access the contents on the app; however, it is now free.
However, it also has a paid subscription plan with new changes and features added to it. This app has excellent features that make it easy for you to check out things in your subscription list.
It also has a great sync option that makes it easy for you to start where you left off on another device. Additionally, this app has fantastic features like Variable Speed, Volume Boost, Trim Silence, Chapter Navigation, and Apple Watch Controls.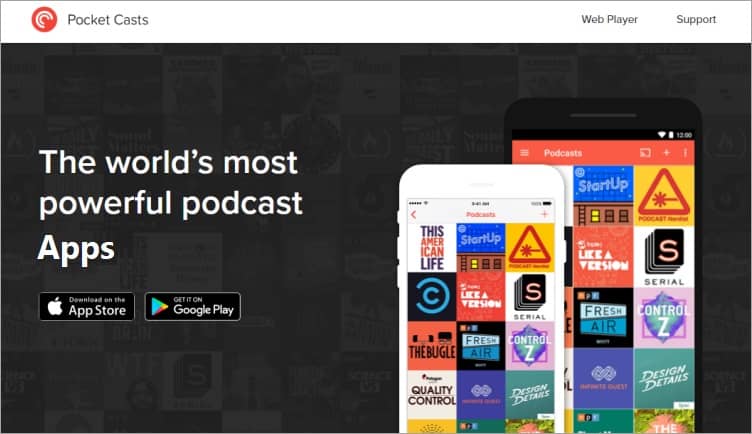 This is also one of the best podcast apps for iPhones and Macs. Subscribing for podcasts on this app is quite easy; you can either browse or search them, or you can add them through the URL feed.
There are fantastic features that provide essential details like the number of episodes in your queue, the most recent episodes that were released, and an icon that lets you know if you have subscribed to download the next release or not automatically.
Stitcher is also one of the best podcast apps, and it is free on both Android and IOS devices. This app makes it easy for you to find new podcasts, create your own playlist, listen to the news, and do more. The app is free but also offers a subscription-based service that removes ads and enables you to listen to original shows.
Podbean is not just a podcast app but also a podcast hosting company. This means you can record or create your own podcast and upload it to a podcast hosting account for free. So, you can both create and listen to a podcast on this app.
Castro is another fantastic podcast app that you can use for free on your iOS devices. However, the paid version has better features and gives you a better podcast experience. It also features for trimming silence, voice booster settings, and dark mode.
You can upload any content you want on the podcast player, and it also offers you the ability to customize settings of each show in your feed.
Spotify is not just one of the best music streaming service; it is also one of the best podcast players. This app helps you to organize and listen to your favorite podcasts; however, it doesn't have control settings or features like most podcast apps.
Finally, you can enjoy the best podcast experience when you use these podcast apps we have listed out.